This is an archived article and the information in the article may be outdated. Please look at the time stamp on the story to see when it was last updated.
Many residents affected by the La Tuna Fire have slept in their vehicles and wait near their neighborhoods as they hope to hear they can return home.
Smoke is still visible in the Burbank Hills neighborhood and Los Angeles firefighters expect flare ups in that area as the fire scorched 5,000 acres in the Verdugo Mountains.
Though no structures have been damaged, evacuations remain in Burbank Estates, the Brace Canyon area, Stough Nature Center and Wildwood Canyon.
An additional evacuation was ordered in  Groton Drive and Hamline Place east of Stephen Road, according to Burbank police.
It is unclear when residents will be able to safely return home.
Brett Howard and his family were heading to San Diego when one of his daughters who stayed home alerted him of the fire threatening their Starlight Hills neighborhood. He told her to get important electronics, documents and family photos and leave their home, while he drove back.
"I figured it was pretty important to come back and make sure everything was OK," Howard told KTLA.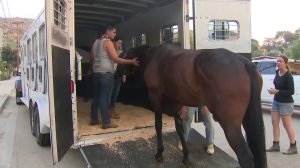 On Saturday morning, his family remained nearby to monitor the situation, hoping to be able to return.
Maniel Nazarian could see flames and smell smoke when he left his home late Friday.
He said he sent his siblings and parents off while he slept in his car and waited near his neighborhood for updates.
Nazarian added that he is confident of firefighters' efforts, but his sister and brother cried when they saw the fire.
"I was trying to calm them down, because if I start crying too, then it won't be good," he said.
Animals and horses were also being led out of the in La Tuna Canyon Saturday morning, video showed.