This is an archived article and the information in the article may be outdated. Please look at the time stamp on the story to see when it was last updated.
Police were searching Monday for three people wanted for burglarizing a liquor store in Garden Grove and stealing thousands of California Lottery scratcher tickets after first pulling the doors off the building, surveillance video showed.
The burglary occurred around 4:46 a.m. Monday at Hanshaw Liquors at 10971 Westminster Ave., according to a news release from the Garden Grove Police Department.
Surveillance video showed a van occupied by three people backing up to the front of the store.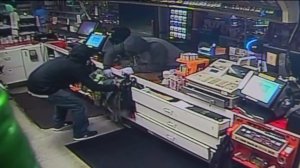 Two men got out of the van and tied a rope around the handles on the front doors and attached it to the tow hitch on the van, the release said.
The driver then drove forward, pulling the doors off their hinges, police said.
Two of the men entered the business and stole the scratchers before all three drove away in the van, the video showed.
One of the scratchers was claimed around 8 a.m. at a convenience store in Compton and a second was brought into a store in Lynwood, the release stated.
The van was described as a '90s faded red or maroon Chevrolet Astro van with custom aftermarket rims, police said.
Anyone with information regarding the burglary was urged to call Detective Wardle at 714-741-5837 or by email at dennisw@ggpd.org.