This is an archived article and the information in the article may be outdated. Please look at the time stamp on the story to see when it was last updated.
A 19-year-old man was facing multiple charges Sunday after allegedly burglarizing multiple vehicles and ransacking a residential garage in Irvine, authorities said.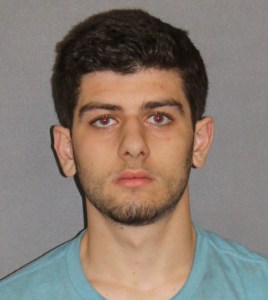 Officers responded shortly before 3 a.m. to a report of a burglary in progress on Winterfield Road (map). When they spotted the suspect leaving the area, he fled on foot through several neighboring properties, according to a news release from the Irvine Police Department.
Matthew Kozlov, of Anaheim Hills, was found hiding in a nearby backyard and arrested without incident, the release said.
Investigators believe the suspect stole a garage-door opener from a vehicle parked in a driveway, then used the device to gain entry to the garage. He ransacked the garage and stole items from the victim's second vehicle, which was parked inside, police said.
When Kozlov was arrested, stolen property was recovered from at least three additional thefts from vehicles on Winterfield Road, Copperleaf and Windarbor Lane, according to authorities. In each incident, the property was stolen from unlocked vehicles.
Kozlov was booked for residential burglary, possession of stolen property, petty theft and resisting/obstructing officers, the police statement said. He was being held in lieu of $50,000 bail.
Anyone with information is urged to call the Irvine Police Department at 949-724-7200.