This is an archived article and the information in the article may be outdated. Please look at the time stamp on the story to see when it was last updated.
A driver suspected of being involved in an attempted burglary was hospitalized Friday after being shot by an officer following a short pursuit in West Covina, according to the Los Angeles County Sheriff's Department.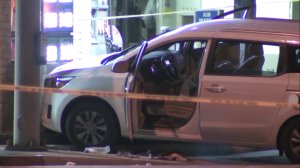 Officers from the West Covina Police Department responded to an attempted residential burglary call in the 1400 block of West Delhaven in the early afternoon, a sheriff's news release stated. The caller told police the suspected burglars were leaving the location in a white minivan.
Officers responding to the location came upon a minivan that matched the suspect vehicle description and conducted a traffic stop. The minivan pulled over at first, but then sped off before the traffic stop had concluded, prompting officers to initiate a brief pursuit, according to the release.
During the chase, two of the three occupants jumped out of the vehicle and fled on foot.
About 1:40 p.m., the vehicle was stopped by an officer working in a one-man patrol car, who attempted to make contact with the driver on Glendora Avenue, just north of Cameron Avenue, according to sheriff's Lt. Rodney Moore. At some point, the officer opened fire, shooting the driver at least once in the upper torso.
"At this time, we do not know what the driver's actions were which compelled the officer to discharge his firearm," Moore said. "That information is pending."
The driver continued southbound on Glendora through the intersection at Cameron until his minivan jumped a curb and came to a rest on the sidewalk, according to the lieutenant. Video from the scene showed the location was at the corner of the intersection, near a Chevron gas station.
Authorities transported the driver to a local hospital for treatment; his condition was not immediately known.
No officers were injured during the incident.
The two other men, meanwhile, were apprehended, according to the Sheriff's Department. It was not known if any of the men were armed.
"I'm not sure if the suspects were armed, however it was an attempted residential burglary," Moore said.
Authorities have also not said whether any arrests were made.
Investigators are looking into the circumstances that prompted the police shooting, according to Moore, who added that the officer, the driver and witnesses have yet to be interviewed.
No further details have been released.
Anyone with information about the incident is asked to call the Sheriff's Department at 323-890-5500. Anonymous tips can also be left by calling Crime Stoppers at 800-222-8477, or by visiting the website http://lacrimestoppers.org.