This is an archived article and the information in the article may be outdated. Please look at the time stamp on the story to see when it was last updated.
The cobbled parking lots outside boutiques are empty. The Italian trattoria known as Oprah Winfrey's favorite haunt is shuttered, as is the Four Seasons resort owned by Ty Warner, the Beanie Babies tycoon.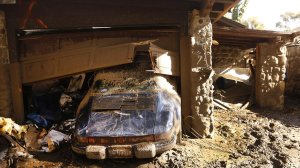 A place famous for coastal affluence and extravagance is now unlivable and grappling with one basic and primitive question: Where to put all the mud?
The picturesque topography that drew the rich and famous here, hills and mountains rising dramatically from Pacific Ocean, fed the destructive mudslides that killed at least 20 people, wiped out 73 homes and damaged hundreds more.
The disaster leaves Montecito with a cleanup that is hard to fathom, and with no timetable for completion. Many streets have limited access because of the mud. Bridges are washed out. Power and gas are shut off for thousands. And when the water does come out of faucets, it's not drinkable.
Read the full story on LATimes.com.