This is an archived article and the information in the article may be outdated. Please look at the time stamp on the story to see when it was last updated.
The burned body of a man was found late Friday night on a street in the Hollywood Hills, and investigators were trying to determine the circumstances of the man's death.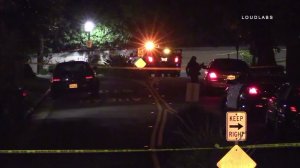 At around 11 p.m. officers responded to the 1900 block of Outpost Drive to a call of shots being fired and a man trying to set himself on fire, the Los Angeles Police Department reported.
The responding officers found a man fully engulfed in flames lying on a sidewalk in front of a house, police said. A handgun was also found under the man's body, and several rounds of ammunition went off due to the heat of the fire, authorities said.
Witnesses told KTLA they saw the man limping around the neighborhood before he caught fire.
Prior to the discovery of the burned body, a woman called 911 and told police she had been shot at and drove herself to a nearby intersection.
The dead man appeared to be between the ages of 30 and 40.
It was unclear how the shooting and the burned body were related to each other.
No other information was immediately available.
KTLA's Geoff Peters contributed to this story.