This is an archived article and the information in the article may be outdated. Please look at the time stamp on the story to see when it was last updated.
An animal cruelty investigation is underway in Lynwood after a burned opossum was found hanging by a noose from a chain-link fence in a Lynwood park earlier this week, officials said Thursday.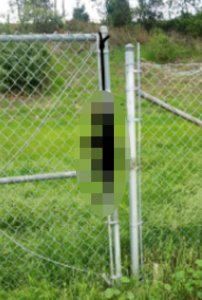 The animal's charred remains were discovered Monday in Yvonne Burke-John D. Ham Park, in the 5100 block of Josephine Street, according to a news release from the Society for the Prevention of Cruelty to Animals Los Angeles, which is leading the investigation into the "violent crime."
A necropsy will be performed to determine a cause of death, and whether the animal was alive or dead when it was set on fire, the release stated. Investigators are also processing forensic evidence from the crime scene.
"This is a case with potential animal cruelty and arson – two very serious crimes," spcaLA President Madeline Bernstein said in a statement on the organization's website. "There is a link between violence towards animals and violence towards people. We want to intervene before it escalates."
To that end, Lynwood animal control officers will assist the spcaLA in canvassing the street over the next two days as they look for information in the case. As noted by the agency, animal cruelty suspects can face felony charges in California.
Anyone with information is urged to contact spcaLA at 800-540-7722.