This is an archived article and the information in the article may be outdated. Please look at the time stamp on the story to see when it was last updated.
A school bus driver has been arrested and charged in connection with an incident being investigated as a sexual assault of a 4-year-old special needs girl, and investigators believe there are other victims, Glendale police said Wednesday.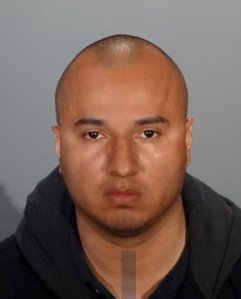 Denis Alcazar, 34, of Los Angeles was arrested on May 2, a week after a warrant was filed for him, on suspicion of false imprisonment and substantial sexual conduct with a child under 14, police said.
Glendale police began an investigation on Oct. 5, 2017, when they received a report about "inappropriate contact" between the alleged victim, who is a 4-year-old Glendale resident with special needs, and her school bus driver.
"She communicated with her parents the best that she could that something was going on that wasn't right with a man that she knew," Glendale Police Department Sgt. Dan Suttles said.
The incident took place on a school bus and is being investigated as a possible sexual assault, Suttles said.
The investigation led to another alleged victim in Bell Gardens. In that incident from five years ago, Alcazar allegedly sexually molested his girlfriend's daughter while he babysat her, police said. The daughter was also 4 years old at the time.
Alcazar pleaded not guilty on May 3 to one count of continuous sexual abuse of a child under age 14 and one count of false imprisonment by violence, according to a spokesman for the Los Angeles County District Attorney's Office.
Police said the false imprisonment count is for the Glendale girl, while the other count is for the Bell Gardens child.
In a news release, police said they discovered "other victims from Los Angeles and Bell Gardens" but they did not elaborate on those cases. An email from Glendale police described Alcazar as a "man who allegedly sexually assaulted a child."
"I personally don't believe that this is going to be the first time this individual's done this," Suttles said. "If he did it five years ago, and now he's doing it again, there's a long span in between. I fear that he's out there victimizing other children."
Alcazar was employed by the First Student Bus Co. at the time of the incident with the 4-year-old in Glendale, and he most recently worked for Brooks Transportation, police said. Both companies contract with school districts across Los Angeles County.
First Student Bus Co. has removed Alcazar from service and he is no longer with the company, which is cooperating with police and Glendale Unified School District, according to company spokesman Chris Kemper. A spokesperson for Brooks Transportation declined to comment.
Alcazar remains in custody at Pitchess Detention Center in Castaic, and his bail was set at $400,000, inmate records indicate. He is scheduled to appear in court in Pasadena on June 15 for a preliminary setting hearing.
Officials believe there may be more victims and ask anyone with information to call 818-548-3106.
Correction: An earlier version of this article, its headline and a push notification sent for this post incorrectly described the charge that Alcazar had been arrested on suspicion of. He was not arrested on suspicion of false imprisonment and substantial sexual conduct, police said, not on suspicion of sexual assault of a 4-year-old girl.