This is an archived article and the information in the article may be outdated. Please look at the time stamp on the story to see when it was last updated.
Several businesses were destroyed Thursday morning when a fire burned through a strip mall in the unincorporated View Park-Windsor Hills area of South Los Angeles.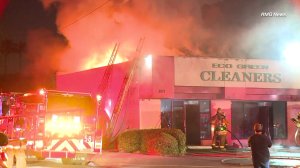 The fire was reported about 12:30 a.m. in the 3800 block of West Slauson Avenue, Los Angeles County Fire Department Capt. Brian Jordan said.
Crews arrived to find smoke rising from an "L" shaped strip mall, which housed about six businesses, Jordan said.
Firefighters initially had trouble accessing the fire, which was in a "compartmentalized area," Jordan said.
Additional resources were called, bringing the number of firefighters battling the blaze to about 70.
Video from the scene showed flames tearing through a large portion of the building.
Two or three of the businesses were badly damaged in the fire, the Los Angeles County Sheriff's Department stated in a news release.
The fire was extinguished about 2 a.m., Jordan said.
A Sheriff's Department arson explosives detail was responding to investigate the cause of the fire.
No injuries were reported, Jordan said.