This is an archived article and the information in the article may be outdated. Please look at the time stamp on the story to see when it was last updated.
A businessman accused of fatally shooting a woman on a Hollywood street last year in an ambush over a disputed wage bill was convicted Tuesday of first-degree murder.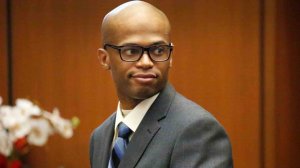 Jurors deliberated about a day before finding Ezeoma Chigozie Obioha guilty, ending a mystery over the brazen slaying of Carrie Jean Melvin. The 30-year-old was killed by a shotgun blast at close range as she and her boyfriend walked to get food on a summer evening.
As the clerk read the verdict, the victim's father closed his eyes and cried quietly into his hands. One row back, the defendant's sister's eyes widened and she mouthed, "what?" in disbelief.
The defendant stared ahead expressionless.
Click here to read the full story on LATImes.com.