This is an archived article and the information in the article may be outdated. Please look at the time stamp on the story to see when it was last updated.
LOS ANGELES (KTLA) — Hundreds of Los Angeles-area taxicab drivers were expected to protest in downtown Los Angeles on Tuesday against unregulated taxi apps.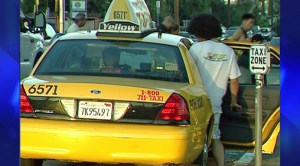 The apps in question include Uber, Lyft and Sidecar.
Los Angeles Department of Transportation (LADOT) Taxicab Administrator Thomas Drischler issued a cease-and-desist letter to the companies on Monday.
The taxi apps were "operating an unlicensed, for-profit commercial transportation service in the City of Los Angeles," according to the letter.
"In the interest of public safety, Uber, Lyft, and Sidecar are hereby directed to cease and desist from picking up passengers within the City of Los Angeles," the letter said.
Passenger safety has been one issue emphasized by critics.
Lyft and Sidecar say they perform stringent background checks on drivers, who they take responsibility for hiring.
Uber operates differently, partnering with limo companies that hire the drivers.
Still, Uber says it only partners with companies that employ drivers that are licensed and insured to drive for-hire vehicles, and that it screens all the drivers.