This is an archived article and the information in the article may be outdated. Please look at the time stamp on the story to see when it was last updated.
California State University, Fullerton officials issued a statement on Monday after surveillance footage of the stabbing of two students near the Pi Kappa Phi Fraternity house was released.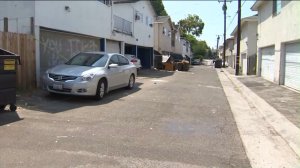 The university's primary concern at this time is with the continued recovery of our students and with supporting law enforcement in their investigation," said Paula Selleck, Associate Director of News Media Services, in an e-mail.
Two male students were stabbed on Sunday during an altercation with two possible attackers in an alley near 2117 Teri Place, close to the north side of campus, a news release from Cal State Fullerton University Police stated.
One victim was stabbed in the chest and the other in the arm, according to the Fullerton Police Department.
The victims, who are believed to be in their late teens or early 20s, were treated and released with non-serious injuries, officials said. A friend of the victims told KTLA that they were recovering and at  home with their families.
The fall semester begins on Monday and there were rowdy parties being thrown all weekend, witnesses told KTLA.
"Complete chaos, complete," said one witness. "It was crazy with all the frat kids running through, frat kids parking their cars and running this way. It was crazy out here."
It is not known if the victims are affiliated with Greek life and their identities have not yet been released. The attackers fled on foot after the stabbing, according to police.
"I just moved into this area and it's already starting to want me to go. I'm not ready to be in any kind of danger in this area or what not," said Anthony Kuehl, a neighbor.
One attacker was described as 5-foot-10-inch, 170 pound white or Hispanic man in his early 20s, last seen wearing a light blue New York Yankees cap, black t-shirt and black pants. There is no current description of the other man.
Anyone with information is asked to call the Fullerton Police Department at 714-738-6800.
KTLA's Anthony Kurzweil contributed to this story.