This is an archived article and the information in the article may be outdated. Please look at the time stamp on the story to see when it was last updated.
The debut of a new housing option at Cal State Los Angeles is attracting a lot of attention, starting with its name: the Halisi Scholars Black Living-Learning Community.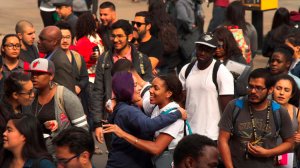 The on-campus housing is meant to gather those interested in issues concerning the black community. Twenty-four students are living in the themed dorm space, and Cal State L.A. said there is a wait list to get in.
News of the housing spread around the Internet on Tuesday, generating criticism. Some said separating minority students runs counter to the aims of the civil rights movement. Stories appeared on the Fox News website and at the Blaze, the online outlet launched by conservative commentator Glenn Beck.
Cal State L.A. said the housing is hardly unique and shuts no one out.
Click here to read the full story on LATimes.com.