This is an archived article and the information in the article may be outdated. Please look at the time stamp on the story to see when it was last updated.
The La Raza Student Association, a multicultural group that works on issues in the Latino community, received violent threats on Facebook a day after pro-Nazi propaganda was posted at a student center at Cal State Long Beach — incidents that are now being investigated by the university and reported to the FBI.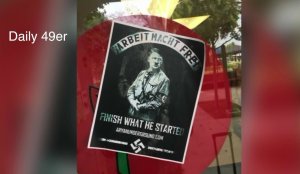 On Sept. 15, pro-Nazi posters depicting Adolf Hitler and a swastika that read "Finish What He Started" were posted on walls of the university's multicultural center. Then, over the weekend, on Sept. 16, the La Raza Student Association discovered its Facebook page covered in hateful messages.
One person who posted multiple messages apparently threatened violence.
"He had commented that 'If I ever see a 'La Raza' officer, I'm gonna shoot them on site,'" Asia Gonzalez, a member of the student group, said of one Facebook commenter.
University officials have not said whether the pro-Nazi posters and threats to La Raza are related, but they said all such incidents are being investigated by the college and reported to the FBI.
Jane Close Conoley, president of the university, sent an email to students promising to address the incidents. She said "direct and credible threats of violence are not tolerated."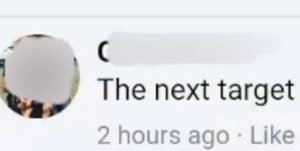 On the group's Facebook page, one photo of the club's faculty adviser had the comment underneath it: "The next target."
"We pride ourselves on being passionate and active, but also nonviolent," said La Raza member Evelyn Ortiz.
One commenter who left multiple messages on the group's page used racial slurs in addition to violent language.
"He was spamming our page with all these hateful comments," Gonzalez said. "He was throwing around a bunch of racial slurs, not only to the Latinx community but also to the black community."
Still, some group members said the hateful remarks only make them more motivated to fight such prejudices.
"As long as there's people out there like that, who have those type of sentiments and have enough passion to say those type of things to students, to human brings, to folks of color — then we have work to do," Ortiz said.
Schools officials said Muslim and undocumented immigrant students have also been targeted recently.
"I'm not afraid at all, so we're gonna keep doing what we're doing," Ortiz said.