This is an archived article and the information in the article may be outdated. Please look at the time stamp on the story to see when it was last updated.
Applications will start being accepted Monday for Los Angeles and Ventura county residents impacted by the recent Woolsey and Hill fire, but do not normally qualify for food aid, but may be eligible for special disaster food assistance through CalFresh, officials said.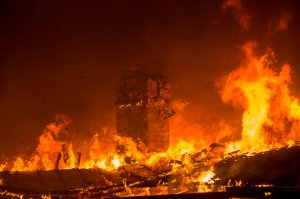 Individuals and families affected by the destructive wildfires in L.A. County may be eligible for the program, which will be accepting applications through Friday at two county social services offices:  11110 W. Pico Blvd. in Los Angeles and 21615 Plummer Street in Chatsworth, count officials said in a written statement.
Both locations are scheduled to be open from 8 a.m. to 5 p.m. Monday through Friday.
In Los Angeles County, people may be eligible if they lived or worked in 12 different zip codes on Nov. 8. The zip codes are 90263, 90264, 90265, 90290, 91012, 91301, 91304, 91307, 91311, 91361, 91362, and 91372.
In Ventura County, those  who lived or worked in area codes 91320, 91361 , 91362, 91377, 93012, 93042 and 93065 may also qualify, officials said.
Those applications will be accepted from 8 p.m. to 5 p.m. Monday, Tuesday and Friday, as well as from 8 a.m. to 7 p.m. on Wednesday and Thursday, at the East County Community Service Center, 2900 North Madera Road  in Simi Valley.
To qualify, applicants must have incurred disaster-related expenses, experienced a disruption in income or had damage to a home or self-employment, officials said. They must also have experience food loss as a result of fire or related power outages and not already be receiving CalFresh food assistance.
More information is available online at www.cdss.ca.gov/Disastercalfresh.