This is an archived article and the information in the article may be outdated. Please look at the time stamp on the story to see when it was last updated.
Gov. Jerry Brown on Tuesday announced a lawsuit by California and 17 other states against the Trump administration to protect national vehicle emission standards from being rolled back by the federal government.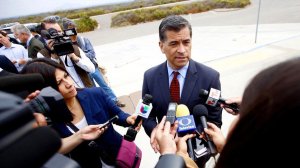 The lawsuit filed in the United States Court of Appeals for the District of Columbia Circuit, seeks to set aside and hold unlawful the Environmental Protection Agency's effort to weaken the existing clean car rules.
The states argue that the EPA acted arbitrarily and capriciously, failed to follow its own regulations and violated the Clean Air Act.
"The states joining today's lawsuit represent 140 million people who simply want cleaner and more efficient cars," Brown said in a statement. "This phalanx of states will defend the nation's clean car standards to boost gas mileage and curb toxic air pollution."
Read the full story on LATimes.com.