This is an archived article and the information in the article may be outdated. Please look at the time stamp on the story to see when it was last updated.
California's attorney general said Wednesday he has filed extortion and money laundering charges against owners of the website Mugshots.com, accusing them of posting mugshot photos and then charging those pictured money to remove the the photos from the internet.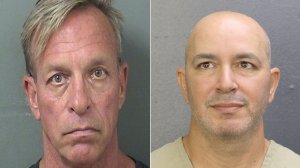 California Atty. Gen. Xavier Becerra said the four people charged received more than $64,000 in removal fees from some 175 Californians over a three-year period. Nationally, the scheme took in $2 million in from 5,703 people over the same period.
The site posted mugshots taken from law enforcement websites even if the people who were arrested never had charges filed against them or later had them dropped. The mugshots can make it harder for them to get jobs and housing, Becerra said.
"This pay-for-removal scheme attempts to profit off of someone else's humiliation," Becerra said in a statement. "This is exploitation, plain and simple."
Read the full story on LATimes.com. 
Americans who can't afford to pay into this scheme to have their information removed pay the price when they look for a job, housing, or try to build relationships. This is exploitation that needs to end, plain & simple: https://t.co/uI18npygqS

— Xavier Becerra (@AGBecerra) May 18, 2018