This is an archived article and the information in the article may be outdated. Please look at the time stamp on the story to see when it was last updated.
A ruling by a San Diego federal judge allowing construction of President Trump's border wall to go ahead will be appealed by two entities opposed to the wall, including California's attorney general.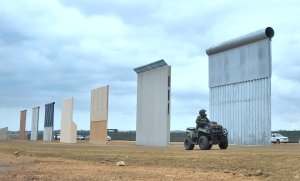 Both the Center for Biological Diversity and Atty. Gen. Xavier Becerra filed formal notices of appeal Monday seeking to reverse a decision in February by U.S. District Court Judge Gonzalo Curiel. The judge ruled that the Trump administration did not abuse its discretion in waiving environmental laws in its rush to begin border wall projects along the Southwest border.
The center had said after the ruling it would appeal, and Becerra also hinted the state would seek appellate court review at the U.S. 9th Circuit Court of Appeals.
The notices declare an intent to appeal. They do not outline arguments to be made on appeal or why each group believes that Curiel got it wrong.
Read the full story on LATimes.com.