This is an archived article and the information in the article may be outdated. Please look at the time stamp on the story to see when it was last updated.
California became the first state to ban the breeding of killer whales and using the animals in theatrical shows.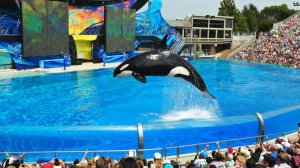 Gov. Jerry Brown signed the bill into law Tuesday. The law, which goes into effect in 2017, passed after years of controversy over keeping killer whales to entertain humans.
Under the new law, the killer whales, or orcas, already in captivity may remain in the state, but they can only be used for "educational presentations" starting in June.
SeaWorld, which has orcas at its park in San Diego, said it doesn't have a position on the bill, but it ended its breeding program in March.
The company has come under fire for its treatment of killer whales since the 2013 CNN documentary "Blackfish."
SeaWorld plans to replace shows with "educational orca encounters starting in San Diego next year," the company said in a statement.
SeaWorld San Diego plans to retain the 11 whales under its care.
"Most of SeaWorld's orcas were born in a zoological setting and the environmental threats in our oceans, like oil spills and pollution are huge dangers for these animals," the company said. "The best, and safest, future for these whales is to let them live out their lives at SeaWorld, receiving top care, in state-of-the-art habitats."
The 'Blackfish' effect
"Blackfish" showed the practice of capturing young orcas in the wild in the 1970s and cast SeaWorld in harsh light for raising them in dark, cramped conditions. It also recounted the 2010 death of veteran SeaWorld trainer Dawn Brancheau by a killer whale named Tilikum, a 12,000-pound bull.
The stock and attendance has fallen recently at SeaWorld, the world's largest marine park operator.
The state law, authored by California Assembly member Richard Bloom, allows the rescue of killer whales for rehabilitation or research purposes. But it stipulates that they cannot be used for breeding, performance or entertainment.
The law also encourages returning the creatures, if possible, back into the wild.
Critics of SeaWorld's killer whales program praised the law.
"People are increasingly turning away from animal entertainment as it is archaic and unjustified," said Marilyn Kroplick, the president of In Defense of Animals. "We applaud the California State Assembly and Governor Jerry Brown for acting on behalf of orcas and so many people who care about them."
Violators can be fined up to $100,000 under the new law.