This is an archived article and the information in the article may be outdated. Please look at the time stamp on the story to see when it was last updated.
California Rep. Mike Thompson of St. Helena is trying to get support for a rarely successful procedural move that would force a vote on a bill to require background checks for all gun purchases.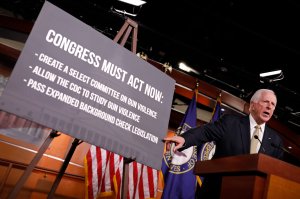 Thompson, a lifelong hunter who leads Democrats' Gun Violence Prevention Task Force, introduced the bill with Republican Rep. Peter King of New York in November. It has been sitting in committee ever since.
The bill would expand the use of the National Instant Criminal Background Check System for guns that are purchased online and at gun shows.
Thompson needs a majority of his House members to sign a petition in order to force the bill to the House floor, meaning he would have to get more than two dozen signatures from Republicans willing to buck their party's leadership. As of Tuesday morning, it had 91 signatures, including 21 California Democrats.
Read the full story on LATimes.com.