This is an archived article and the information in the article may be outdated. Please look at the time stamp on the story to see when it was last updated.
Imagine a future where only zero-emission vehicles could be registered in California or driven on the state's freeways.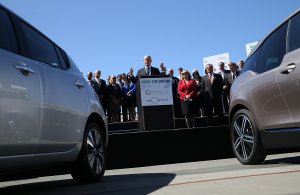 Those are two tactics that could be used to help the world's sixth largest economy phase out combustion engines, suggested California Air Resources Board Chair Mary Nichols in a recent interview with Bloomberg.
The state already has far-reaching policies for fighting climate change, but Nichols said Gov. Jerry Brown wants to make sure California is keeping pace with goals set by other countries.
Britain and France plan to ban vehicles powered by gasoline or diesel fuel by 2040, and China recently announced it would set its own deadline.
Read the full story on LATimes.com.
The internal combustion engine's days may be numbered in California https://t.co/ln3W0vzgJ2 @RyanBBeene @johnmlippert #esg

— Anne Riley Moffat (@A_Riley17) September 26, 2017