This is an archived article and the information in the article may be outdated. Please look at the time stamp on the story to see when it was last updated.
A local man who has posted more than 100 videos of alleged water wasters online said Thursday his goal was to promote change, not shame those he filmed.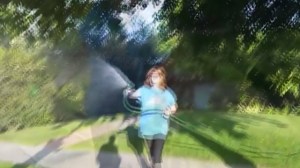 Tony Corcoran has been videotaping examples of water waste at homes, businesses, schools and public facilities in the Los Angeles area for roughly four years, he said, telling KTLA in an interview that he films the incidents in his spare time.
"If I see something that I find to be terribly egregious, such as a stream going down the middle of the road where there should not be a stream, I stop, and take a video of it," he said.
Corcoran then posts the videos to his YouTube page -- "Western Water Luv" -- along with the address where the alleged offense occurred. Some of the videos use the hashtag, #droughtshaming.
In one such confrontation, a woman watering plants in the front yard of her home turned the hose on Corcoran after he criticized her lush lawn, telling him, "I didn't ask you to do this."
The goal of the videos, Corcoran explained, is to get people to change and, "Not to shame them."
He defended the practice on his YouTube page, writing: "Please look at the playlists to see the focus - Schools, government properties, and landlords, firstly. I do this while exercising. I have real videos here, and another 100 I haven't even loaded, showing millions of gallons of waste. We need that water."
Corcoran added he tries to follow up with the alleged offenders, but that does not always work.
While Corcoran thinks what he does is for the good of California, some have criticized so-called "drought-shaming," which has picked up steam in the midst of the state's historic drought.
A new app, for example, allows users to report when they see water being water wasted. And others have taken to Twitter to report their neighbors, using the hashtag, #droughtshaming.
"All you are doing is promoting greater discord among the civilian population," one Internet user posted about drought-shamers in general.
The criticism, however, won't stop Corcoran from continuing along the path he's carved out for the past several years.
"It's important to me because I don't want to move out of California when we have no more water," he said.