This is an archived article and the information in the article may be outdated. Please look at the time stamp on the story to see when it was last updated.
Californians can expect more scorching and deadly hot temperatures, devastating wildfires and increasingly severe beach erosion in the future, according to an alarming statewide assessment released Monday.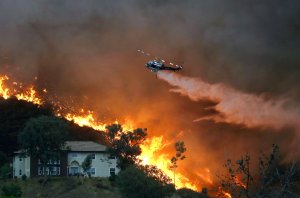 The new report concludes that the effects of climate change are more drastic than previously thought, and can even shorten the lives of thousands living in the state.
Key projections included in California's Fourth Climate Change Assessment, released by the governor's office with other state agencies, include:
by 2100, average annual maximum daily temperatures are projected to increase by 5.6 to 8.8 degrees;
by 2050, water supply from crucial mountain snowpack is projected to decline by two-thirds;
by 2050, water shortages of up to 16 percent could affect agriculture in some regions, under some conditions;
by 2100, frequency of extreme wildfires could increase by 77 percent;
by 2100, 31 to 67 percent of Southern California beaches could completely erode due to sea level rise;
by 2050, there could be two to three times more heat-related deaths in cities, and vulnerable populations will experience the worst effects;
by 2055, insurance costs in areas with the highest fire risk could increase by 18 percent; and
by 2040 to 2080, airports in major urban areas will be susceptible to major flooding because of a combination of rising sea levels and storm surge, if officials don't take protective measures.
The report draws from findings by dozens of experts, and offers ways to adapt to how greenhouse gases are affecting the state.
It is being released at a time when the Trump administration is reversing key climate change regulations, including moving to allow more pollution from vehicles and coal-fired power plants.
This summer, wildfires raged across the state and record-breaking heat scorched the Southland.
"This year has been kind of a harbinger of potential problems to come," Daniel Cayan, a climate researcher at the Scripps Institution of Oceanography told the Los Angeles Times. "The number of extremes that we've seen is consistent with what model projections are pointing to, and they're giving us an example of what we need to prepare for."
The report offers a historic overview of how global warming has changed the state's landscape. It offers this warning: "California is one of the most 'climate challenged' regions of North America and must actively plan and implement strategies to prepare for and adapt to extreme events and shifts in previously 'normal' averages."
In a tweet about the report, Gov. Jerry Brown called climate change an "apocalyptic threat."
"In California, facts and science still matter," the tweet read. "These findings are profoundly serious and will continue to guide us as we confront the apocalyptic threat of irreversible climate change."
Read the full report here.
In California, facts and science still matter. These findings are profoundly serious and will continue to guide us as we confront the apocalyptic threat of irreversible climate change. https://t.co/a8XjR4V6sC

— Jerry Brown (@JerryBrownGov) August 27, 2018
New climate report warns that two-thirds of Southern California's beaches could completely disappear & the average area burned by wildfires could nearly double by 2100. Report offers tools to address #ClimateChange: https://t.co/xjdiNWwLZY #CAF2018 #ClimateAssessment 🌊🔥🌎⚡️ pic.twitter.com/3394eNoesW

— California Energy Commission (@CalEnergy) August 27, 2018
Heat deaths on the coast. Stronger fires in the Sierra Nevada. Permanent flooding in San Diego. California's alarming new climate change report is in https://t.co/YlUqpMh5Vu pic.twitter.com/Boidxf0iRG

— Los Angeles Times (@latimes) August 27, 2018
The state has released California's Fourth Climate Change Assessment, which details new science on the devastating impacts of climate change and provides planning tools to support the state's response. View key findings & download full report here: https://t.co/EWP8lqRDo9

— CA Water Boards (@CaWaterBoards) August 27, 2018