This is an archived article and the information in the article may be outdated. Please look at the time stamp on the story to see when it was last updated.
California's gas tax hike is set to go into effect next Wednesday as the state looks to raise billions of dollars for transportation projects.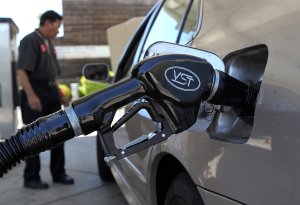 Under Senate Bill No. 1, the gasoline tax will increase by 12 cents, while the excise tax on diesel fuel will rise 20 cents; the sales tax will also go up by 4 percent, the Los Angeles Times reported after Gov. Jerry Brown signed the legislation in April.
As part of the legislation, motorists will also have to pay an annual vehicle fee, though that doesn't take effect until Jan. 1, 2018. The fees range from $25 for cars worth less than $5,000 to $175 for those valued at more than $60,000.
Additionally, a $100 annual fee on electric vehicles will be imposed on owners in lieu of gas taxes beginning on July 1, 2020.
Most California drivers can expect the taxes and fees to cost them less than $10 each month, according to Brown.
The transportation funding package, signed in April, was hailed by the governor as a needed measure to repair road and bridges across the state, while strengthening mass transit and creating employment opportunities.
"Safe and smooth roads make California a better place to live and strengthen our economy," Brown said in a news release at the time. "This legislation will put thousands of people to work."
The taxes and fees are expected to raise $5.2 billion annually, about $52.4 billion over the next decade, according to the release.
State Republicans, meanwhile, have launched efforts to repeal the gas tax and vehicle fee increases, including  through a proposed November 2018 ballot initiative. The measure, should it qualify for the ballot, would also require voters to approve future tax hikes.
An initial poll indicated that a majority of Californians — 53.9 percent — oppose repealing the gas tax, and that efforts to do so would likely be unsuccessful, the L.A. Times reported earlier this month.