This is an archived article and the information in the article may be outdated. Please look at the time stamp on the story to see when it was last updated.
California has lost more jobs to China than any other state since 2001, fueled by Silicon Valley outsourcing and the continued shrinking of Southern California's apparel industry, according to a report released Tuesday by a Washington, D.C., think tank.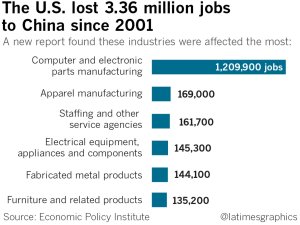 Some 562,000 jobs were displaced in the Golden State, the equivalent of a 3.34% share of California's total employment of 16.8 million jobs in 2017, the Economic Policy Institute concluded.
In the U.S. overall, 3.4 million manufacturing jobs were lost since China entered the World Trade Organization in 2001, according to the report, which reached its conclusions by subtracting job opportunities lost to imports from those gained by exports.
"The U.S.-China trade relationship needs to undergo a fundamental change," according to the institute, which is affiliated with labor-union critics of unfettered globalization. "Addressing unfair trade, weak labor, and environmental standards in China, and ending currency manipulation and misalignment, should be our top trade and economic priorities."
Read the full story on LATimes.com.