This is an archived article and the information in the article may be outdated. Please look at the time stamp on the story to see when it was last updated.
California, Nevada and other parts of the West endured more flooding, mudslides and heavy snow after winter storms pummeled the region over the weekend.
In California, a gigantic mudslide closed a section of Interstate 80 in the Sierras and high winds felled a famous giant sequoia tree with a hollowed-out tunnel that motorists could drive through. The stretch of I-80 reopened on Monday afternoon.
And there's more to come. Flash-flood warnings have been issued for Northern and central California, western Nevada and southwest Oregon. "Relentless rain and snow over much of the Western US will be reinvigorated by another powerful storm moving onshore late Tuesday," the National Weather Service said.
"Periods of heavy rain and snow will continue for the Western US through the middle of this week," CNN meteorologist Haley Brink said. Flooding may affect Northern and central California, southern Oregon and portions of Nevada near Reno, she said.
Many Western rivers will continue to rise as rain that fell on Sunday flows down the Sierras into valleys and other low-lying areas. Another 5 to 10 inches of rain could fall throughout the next week in these already water-swollen areas, Brink said.
California hit hard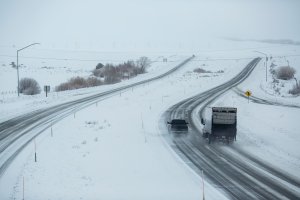 The pounding rainfall has caused misery for residents, tourists and motorists in the Golden State.
Yosemite National Park has been closed to visitors because of forecast heavy rains and flooding. The park on Monday tweeted Yosemite Valley will reopen Tuesday, conditions permitting. "Park visitors are asked to be aware of hazards, including potential wet and icy road conditions, rockfall, and debris in roadways," it said.
A gigantic mudslide resulted in the closing Sunday night of Interstate 80, the main east-west connector through north-central California.
The mudslide happened at the Donner Summit, northwest of Lake Tahoe in the Sierra Nevada mountains.
Peter Mann, spokesman for California Highway Patrol in Truckee, said snow in the area is a given this time of year.
"The mud on the roadway has been cleared. We ran dump trucks all through the night to make sure it was clear. And then made sure the hillside was secure prior to opening the freeway."
"It [mudslide] is not common in this area."
Farther south, the weekend storm toppled the historic Pioneer Cabin Tree, an enormous sequoia that people can drive through in Calaveras Big Tree State Park.
"The Pioneer Cabin tree has fallen! This iconic and still living tree — the tunnel tree — enchanted many visitors. The storm was just too much for it," the Calaveras Big Trees Association said Sunday in a Facebook post.
Park rangers told CNN affiliate KOVR that a shallow root system probably contributed to the tree's collapse.
The hole in the tree was cut in the 1880s to compete with "drive-through" trees in nearby Yosemite National Park. The San Francisco Chronicle reported that cars once drove through the tree, but in recent years only hikers were allowed to walk through.
CNN affiliate KGO reported another mudslide, along Highway 17 near Scotts Valley in the Santa Cruz area.
Floods in Nevada
Gov. Brian Sandoval directed nonessential state employees in northwestern Nevada to head home and stay off the roadways. He also declared a state of emergency over the weekend because of the severe weather.
CNN affiliate KOLO said the Truckee River, which flows through Nevada and California, crested in downtown Reno and in nearby Sparks.
"There could be additional problems in Reno if a levee at Idlewild Park breaks and lets up to another foot of water head downtown," the affiliate report said.
Hundreds of homes were evacuated in the Reno-Tahoe area because of flooding. Overflowing drainage ditches on Sunday forced the voluntary evacuations of more than 1,000 people in one south Reno neighborhood, KOLO reported.
The state Department of Public Safety reported numerous road closures and the clearing of debris at Cradlebaugh Bridge in Douglas County.