This is an archived article and the information in the article may be outdated. Please look at the time stamp on the story to see when it was last updated.
California and 15 other states joined the growing legal challenge to President Trump's immigration orders, filing an amicus brief Monday supporting Washington state's lawsuit that argues the directives targeting people from Muslim-majority countries are unconstitutional.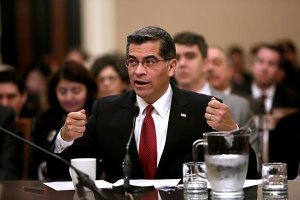 State Atty. Gen. Xavier Becerra announced the friend-of-the-court brief after a federal judge put a nationwide hold on the immigration moratorium and the case was appealed by the Trump administration.
California was joined in filing the brief by Connecticut, Delaware, Illinois, Iowa, Maine, Maryland, Massachusetts, New Mexico, New York, Oregon, Pennsylvania, Rhode Island, Virginia, Vermont and the District of Columbia.
"On behalf of the nearly 40 million people of California, I stand shoulder-to-shoulder with [other] attorneys general … to preserve the suspension of the Trump Administration's travel ban," Becerra said in a statement.
Click here to read the full story on LATimes.com.
I've filed an amicus brief in 9th Circuit Court of Appeals, along w/15 state AGs, to keep @realDonaldTrump's travel ban suspended! #NoBan

— Xavier Becerra (@XavierBecerra) February 6, 2017