This is an archived article and the information in the article may be outdated. Please look at the time stamp on the story to see when it was last updated.
On the eve of President Trump's first visit to California since he took office, a state lawmaker says he wants to deny state tax breaks to companies that contract or subcontract to build the proposed wall along the U.S.-Mexico border.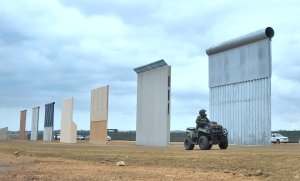 Assemblyman Phil Ting (D-San Francisco), who wields substantial influence in the creation of state tax policy as Assembly budget committee chairman, has been among the vocal opponents to the border wall, calling it counterproductive to the state's economic growth and "a symbol of weakness and hate to the world."
He plans to present his proposal to an Assembly committee on Monday, and the bill is expected in print next week. It would prevent companies that profit from the wall's construction from receiving some tax credits, such as those given for hiring new employees, buying or using certain manufacturing and research equipment or for promoting alternative energy and advanced transportation.
Trump is expected in San Diego on Tuesday to inspect prototypes for the wall. Ting's proposal has been one of several attempts to slow or stop its construction in a state that has billed itself as home to a resistance movement against Trump's hard-line immigration policies.
Read the full story on LATimes.com.