This is an archived article and the information in the article may be outdated. Please look at the time stamp on the story to see when it was last updated.
A measure to spend $2 billion on housing homeless Californians could be on the November statewide ballot.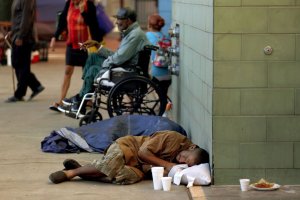 State Sen. Kevin de León (D-Los Angeles) is pushing the idea to deal with what he said was a "burgeoning humanitarian crisis whose epicenter is here in California."
De León's new measure is a do-over for a 2016 plan passed by the Legislature to redirect $2 billion toward building homeless housing from a voter-approved 1% income tax surcharge on millionaires that funds mental health services. A Sacramento attorney sued over that decision, arguing that the move violated constitutional rules on approving loans without a public vote and that lawmakers shouldn't take money away from mental health treatment. The case remains active in Sacramento Superior Court and it's unclear when, or if, the state will be able to spend the $2 billion.
De León's Senate Bill 1206 would put the $2-billion loan on the ballot in November, freeing up the money if voters approve the measure. De León said had he been able to predict the 2016 plan would end up in court, he would have sought a ballot measure at the time.
Read the full story on LATimes.com. 
To recap, here are the 4 housing measures that will almost certainly be on the November ballot:
* $4b for low-income housing and veterans' home loans
* Allow for more rent control
* More Prop. 13 tax benefits for those 55+
* Overturn lead paint court decision + bond for cleanup

— Liam Dillon (@dillonliam) April 24, 2018