This is an archived article and the information in the article may be outdated. Please look at the time stamp on the story to see when it was last updated.
Every day, Mike Thompson hears a new story about how last month's fires in Northern California have affected people's lives. Insurance is being denied. Tourism is down. Some companies have laid off workers.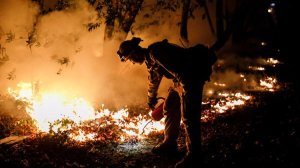 "Block after block of homes are wiped out and cars are melted down to their skeletal remains," the Napa Valley congressman said of his travels in Santa Rosa over the weekend.
And yet none of the $44 billion that the White House requested of Congress on Friday for supplemental disaster aid includes funding to rebuild California after the fires — which killed 43 people and destroyed nearly 9,000 structures — a move that's sparked an outcry from Thompson and his fellow lawmakers.
"I think it's very disappointing. Folks throughout California were ravaged by this fire, and we should ensure they get the help and support they need," Thompson said Sunday.