This is an archived article and the information in the article may be outdated. Please look at the time stamp on the story to see when it was last updated.
California lawmakers gave final approval on Saturday to moving the state's primary elections to early March beginning in 2020, a renewed effort at relevance in the quadrennial presidential sweepstakes.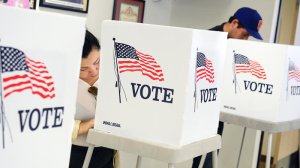 Senate Bill 568 would shift all primary elections — including those for statewide, legislative and congressional offices — to the first Tuesday in March, as long as it comes after a Monday.
"Moving California's presidential primary to March from June means candidates in both parties can't treat immigration, climate change, criminal justice reform and investing in jobs and innovation like afterthoughts, as they did too often in 2016," said state Sen. Ricardo Lara (D-Bell Gardens), the bill's author, in a written statement.
California has tried to move its presidential primary in prior years as a way to entice Democratic and Republican candidates to come to the state and campaign. But in almost every election cycle, other states moved their primary or caucus even earlier, thus leaving California as a political also-ran.
Read the full story on LATimes.com.