This is an archived article and the information in the article may be outdated. Please look at the time stamp on the story to see when it was last updated.
State Treasurer and Democratic candidate for governor John Chiang on Tuesday announced his office will study whether California should create a state bank to serve California's newly legalized marijuana industry.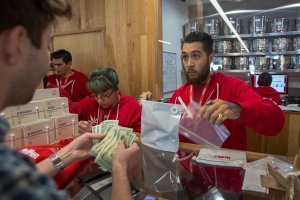 The effort will be coordinated with the state attorney general's office, with both agencies trying to determine the costs, legal implications and other possible barriers to creating a state-run bank.
The biggest risk may come from Washington. U.S. Atty. Gen. Jeff Sessions has indicated that the federal government will begin enforcing federal laws banning marijuana in states where cannabis is legal.
But it didn't take long for one of Chiang's Democratic rivals in the governor's race, Lt. Gov. Gavin Newsom, to take a swipe at him. Within minutes of Chiang's announcement, Newsom's campaign manager criticized Chiang for not endorsing Proposition 64, which voters approved in 2016 to legalize recreational marijuana.
Read the full story on LATimes.com.