This is an archived article and the information in the article may be outdated. Please look at the time stamp on the story to see when it was last updated.
California Pizza Kitchen will host a fundraiser Tuesday in honor of a Long Beach Fire Department captain who was fatally shot while responding to a fire last month.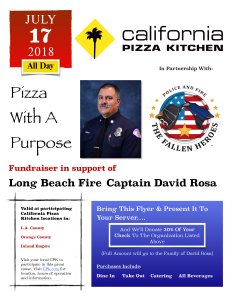 The restaurant's "pizza with a purpose" fundraiser will host the all-day event at 12 participating locations in the Inland Empire and Los Angeles and Orange counties to pay tribute Capt. Dave Rosa, the Laguna Beach Patch reported.
Twenty percent from each check will be donated to The Fallen Heroes, a California-based organization that supports the families of police officers and firefighters killed in the line of duty.
Rosa, a 17-year veteran of the Fire Department, served as a captain for 6 1/2 years before his death on June 25.
He was responding to calls of an explosion in a senior living apartment complex in Long Beach when he was allegedly shot by a 77-year-old man who set off an explosive device in an attempt to kill his neighbor, authorities said.
The man, later identified as Thomas Man Kim, was charged with murder, attempted murder, arson of an inhabited structure and explosion with intent to murder, the L.A. County District Attorney's office said.
Rosa was described by many as a family man who was passionate about his job. He is survived by his wife and two sons.