This is an archived article and the information in the article may be outdated. Please look at the time stamp on the story to see when it was last updated.
California steel manufacturers are concerned that tariffs proposed Thursday by President Trump will drive up the price of their products, threatening their ability to compete with foreign and eastern U.S. steel makers and forcing them to cut local jobs.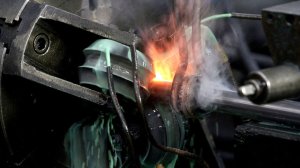 On Thursday, Trump surprised many industry leaders — and members of his own administration — by announcing plans to impose 25% tariffs on steel imports and 10% duties on aluminum. He said he will sign the order next week.
In California, industry leaders and analysts argue that the tariffs would provide no benefits to steel manufacturers on the West Coast — companies that import steel in the form of slabs and coils, rather than making it from iron ore. They use that to create finished products for a vast array of businesses across the United States. Those companies also worry that the tariffs would drive up the price of domestic steel.
On Friday, a senior administration official said the new tariffs would apply to metal imported from all nations. Some experts wondered if the administration would go easier on allies such as Canada.
Read the full story on LATimes.com.