This is an archived article and the information in the article may be outdated. Please look at the time stamp on the story to see when it was last updated.
Beverly Beesemyer served during World War II along with more than 1,000 other women airforce service pilots, or WASPs.  Now 99, the Orange County resident returned to the sky.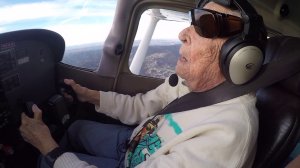 Beesemyer doesn't move around quite like she used to, but she still remembers how it felt to fly powerful military planes like B-17s during the war.
"I just loved every minute of it," she told KTLA recently.
"When you're up there in the sky and you don't have a worry."
She was part of a little-known band of 1,100 women called the WASPs.
The Women Air Force Service Pilots formed in 1942 during a pilot shortage.
"They said that 'you're going to learn to fly airplanes, military aircraft,' so I said, 'That would be fun.'"
Thousands of combat aircraft were being made every month during the war and the WASPs logged millions of hours delivering those planes to U.S. bases.
"We learned absolutely everything they were teaching the men who were going to war," Beesemyer said.
But they were not well received by many of their male counterparts.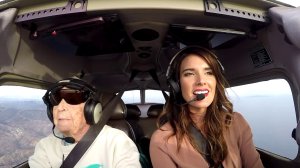 "They would turn their backs on us when we would walk in," Beesemyer said.
She told KTLA that one of her commanders even tried to sabotage her by putting her plane in a spin, but when she survived the incident, she simply asked for a transfer.
Although 38 of Beesemyer's fellow WASPs died in the war, they were classified as civilians and their families did not receive military benefits. That is, until 1977, when they were finally recognized as veterans.
Beesemyer is featured in a new dramatic series called "FlyGirls" and said that, beyond all honors, her greatest wish is to get back up into the sky.
KTLA made that happen.
Reporter Christina Pascucci flew with Beesemyer recently, and the veteran's smile when the plane went airborne, said it all.
She took control of the aircraft, and just like riding a bicycle, it all came rushing back to her.
"We enjoyed ourselves so much up there. It was wonderful," Beesemyer said afterward.