This is an archived article and the information in the article may be outdated. Please look at the time stamp on the story to see when it was last updated.
California drivers can begin applying this month for the new "Real ID" cards, which will eventually be among the requirements for anyone wishing to travel by air domestically, according to the Department of Motor Vehicles.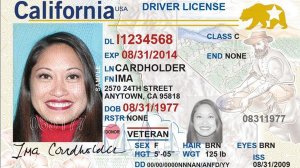 Beginning on Oct. 1, 2020, only those with Real ID driver's license or identification cards will be able to pass through security checkpoints at airports or other secure federal facilities without other accepted forms of ID, such as a passport, the California DMV said in a news release Thursday.
Federally compliant licenses and cards will actually be required to fly within the U.S. come Jan. 22, but California is among a number of states that have been granted extensions, according to the Department of Homeland Security's website.
As such, Californians can continue to use state-issued driver's licenses and ID cards until Oct. 1, 2020.
Even though that date is more than two years away, the DMV will begin offering the federally compliant forms of identification starting Jan. 22. Though the DMV "suggests" motorists and residents begin applying for the new cards "as soon as possible," there is also "no need to rush," the release stated.
"It pays to get it sooner rather than later especially if you plan on traveling," the DMV said.
To do that, Californians should make an appointment to visit their local DMV — you can't apply for the Real ID by mail or online — and bring three things:
An identifying document, such as a valid U.S. passport, birth certificate, permanent resident card or certificate of naturalization
And proof of Social Security number, which includes a Social Security card, a W-2 form or a pay stub with full Social Security number on it
And a proof of California address, like a rental or lease agreement, home utility bills, IRS or California tax returns, mortgage bill, records from a financial institution or document issued by a federal government agency
Full list of requirements can be found here. 
Those who have legally changed their name may also have to provide additional documentation, such as a marriage certificate or adoption document.
California driver's licenses cost $35, while regular ID cards are $30, according to the DMV's website.
Residents will not need the new Real ID to drive, apply for federal benefits, vote and enter a federal facility that doesn't require a form of identification (such as the post office), the DMV noted.
Those under the age of 18 also will not be required to have a Real ID in order to board a domestic flight.
The new requirements come as a result of the passage of the federal Real ID Act of 2005, which came in response to the Sept. 11 terror attacks. It essentially standardized ID requirements for all states, marking the biggest change to driver's licenses in years, according to the release.