This is an archived article and the information in the article may be outdated. Please look at the time stamp on the story to see when it was last updated.
Sutter Brown, the charismatic corgi who seemed to soften the rough edges of Gov. Jerry Brown and in the process became a social media sensation as California's first dog, died Friday after an illness that had sparked a bipartisan outpouring of support.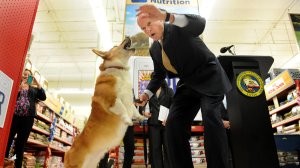 The 13-year old dog, the oldest of two canines belonging to the governor and First Lady Anne Gust Brown, had emergency surgery in October to remove some cancerous masses. News of the dog's prognosis traveled quickly through political circles, but his condition improved and he returned home with the governor. In recent days, his health took a turn for the worse, the governor's office said.
The pets of politicians often hold a unique place in public life, and perhaps no California governor has more steadily relied on a four-legged family member for companionship and political peacemaking than Brown did with Sutter.
"It took a dog to humanize the Capitol," said Jennifer Fearing, a lobbyist for animal rights issues who became one of Sutter's unofficial caretakers in Sacramento.
Click here to read the full story on LATimes.com.
A beautiful day on the ranch, but a very sad parting. Happy trails, @SutterBrown. https://t.co/C5boShaNBK pic.twitter.com/p7jIHsAcdQ

— Jerry Brown (@JerryBrownGov) December 31, 2016
No colleague brought us more joy – & distraction – than you, @SutterBrown. We'll miss you buddy. #GoodBoy https://t.co/XikhAPwVlV pic.twitter.com/5zDWzm0DRo

— Governor Newsom Press Office (@GovPressOffice) December 31, 2016
Keep fighting Sutter! We want you home. #suttercomehome pic.twitter.com/aiQnQlgQwr

— annebgust (@annebgust) October 11, 2016
While mom & dad got to go light the real Capitol Christmas Tree, we got stuck with this fake fir & 2 stuffed dogs #Ruff pic.twitter.com/tRmuaa3tWh

— Sutter Brown (@SutterBrown) December 6, 2016