This is an archived article and the information in the article may be outdated. Please look at the time stamp on the story to see when it was last updated.
Officials from Caltrans and six Orange County cities on Thursday held a town hall meeting to solicit feedback on a proposal to add toll lanes to a 14-mile section of the 405 Freeway.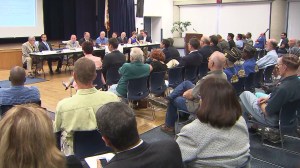 Dozens of residents attended the forum, held at the Costa Mesa Neighborhood Community Center, where many of them were joined by elected representatives in expressing opposition to the plan.
"How many people can come up with all this extra money, every day, every week, to use the toll lane?" asked Rich Butterfield, a resident of Rossmoor. He described the routes as "elite lanes" for wealthy motorists who need to quickly reach their destination.
"I absolutely oppose this," said Irvine City Councilwoman Beth Krom, one of several local leaders who voiced their objections. "I believe I speak on behalf of my community to say, we must not do this."
The $1.7 billion toll-lane project is one of multiple proposals currently being considered by Caltrans and the Orange County Transportation Authority.
According to the agencies, the so-called "Alternative 3" would reduce congestion on the heavily trafficked artery by creating high-occupancy high-occupancy toll lanes between State Road 73 in Costa Mesa and the 605  Freeway in Seal Beach (map).
The toll lanes would only charge drivers who do not meet the high-occupancy requirement, and would be installed alongside free general-purpose lanes.
The project may reduce certain commutes by as much as an hour, said Caltrans spokesman David Richardson.
"On the day that you're driving, and you need to get home with that guaranteed trip time, you'll be able to choose the option of getting into the HOT lane and having a guaranteed trip home," he said.
The price for using the toll lanes has not yet been determined, officials said. Estimates have put the cost as high as $11 for a one-way trip during rush hour.
"We believe the build alternative is the correct option," Richardson said. "There's funding challenges to building infrastructure, and we think this is the option that best serves the public."