This is an archived article and the information in the article may be outdated. Please look at the time stamp on the story to see when it was last updated.
Musician Calvin Harris and another person were injured after a head-on collision in Studio City, police confirmed Saturday morning.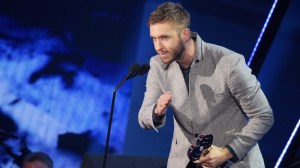 The two-car crash occurred in the 3500 block of Laurel Canyon Boulevard about 11 p.m Friday after a Volkswagen Beetle crossed over the center divider, according to Sgt. Delgado of the Los Angeles Police Department's Valley Traffic Division.
One victim was ejected from Beetle in the crash and suffered a broken pelvis, he said. The person's condition was not immediately known.
Harris, whose real name is Adam Wiles, sustained an injury to the face and was transported to a hospital, but left before being treated, according to Delgado.
The musician, who has dated singer Taylor Swift, was headed to the airport when the collision occurred, according to a statement on his Facebook page.
He will not be able to perform at the Omnia nightclub in Las Vegas Saturday night as a result of the crash, having been told by doctors to rest for a few days, the post stated.
The crash remained under investigation, but police do not believe the Volkswagen's driver was under the influence or distracted at the time, Delgado said.
Five people were in the Beetle, which was driven by a 16-year-old girl, police told the Los Angeles Times.
KTLA's Matt Phillips contributed to this story.