This is an archived article and the information in the article may be outdated. Please look at the time stamp on the story to see when it was last updated.
CAMARILLO, Calif. (KTLA) — A Camarillo High School associate principal was expected to appear in court on Thursday on sex crimes charges, police said.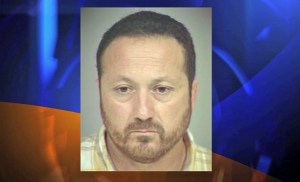 David Gallegos, 41, of Camarillo, was arrested on Wednesday and was being held on $30,000 bail, according to the Ventura County Sheriff's Department.
He was charged with four misdemeanor counts of child molestation and one misdemeanor count of sexual battery.
Two separate victims, one female staff member and one female student, told police that Gallegos touched them inappropriately while on the school campus.
The two alleged victims did not know about each other, detectives said.
The investigation began back on May 20 after school officials received an accusation that Gallegos was involved in inappropriate behavior on the campus.
He was immediately placed on administrative leave, and the school reported the information to Camarillo police, authorities said.
The Oxnard Union High School District has fully cooperated with the investigation, sheriff's officials said.
Authorities were looking into the possibility that there may be additional victims.
Anyone with information was asked to contact Detective Greg Guilin of the Ventura County Sheriff's Major Crimes Unit at (805) 384-4725.
Tipsters who want to remain anonymous can call Ventura County Crime Stoppers at 800-222-TIPS (8477).