This is an archived article and the information in the article may be outdated. Please look at the time stamp on the story to see when it was last updated.
LOS ANGELES (KTLA) — The decision of a three-judge panel to split the Christopher Dorner reward money three ways was already being challenged on Friday.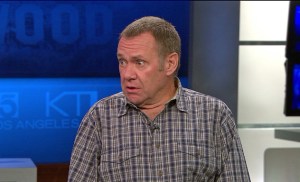 Richard Heltebrake, a camp ranger who wasn't slated to split the $1 million reward, was fighting for a share of the money.
Heltebrake was expected in Los Angeles County Superior Court in downtown L.A. on Friday.
He planned to ask a judge for a temporary restraining order to block the release of any funds until he can make his case.
Heltebrake called 911 after his white pickup truck was carjacked by Dorner in Big Bear on Feb. 12.
In papers filed in Superior Court, his attorney argued that Heltebrake should receive a "sum not less than one million dollars" and "special damages."
However, the panel of judges that decided how to divide the money disagreed.They said that police already knew Dorner was in the area when they got Heltebrake's 911 call.
"Mr. Heltebrake's phone call did not provide information leading to Dorner's capture," a report detailing the judges' decision said.
"Law enforcement had already spotted Dorner driving a white pickup," according to the report.
The decision about how the money would be distributed came down on Tuesday.
The panel awarded 80 percent of the funds to a couple who were bound and gagged by Dorner in their Big Bear condo.
Karen Reynolds called 911 on Feb. 12 after she and her husband broke free.She provided her location and a description of the couple's Nissan SUV that Dorner had stolen.
"Had Mr. and Mrs. Reynolds failed promptly to escape their restraints and contact law enforcement, it is likely Dorner would have escaped," the report said.
Dorner was killed hours later when he turned the gun on himself during a final standoff with police at a cabin in Seven Oaks.
Five percent of the reward was given to tow truck driver R. Lee McDaniel, who flagged down police on Feb. 7 after seeing Dorner at a gas station in Corona
The remaining 15 percent of the money was allotted to ski resort employee Daniel McGowan.
After two early-morning shootouts with police on Feb. 7, including one that left a Riverside police officer dead, Dorner was still on the run.
Hours later, McGowan reported spotting Dorner's burning pickup truck on a fire road in Big Bear.
That tip led authorities to the area where Dorner was ultimately located, the report said.
Dorner, 33, who was fired from the LAPD, was accused of killing four people, including two law enforcement officers, and wounding several others.
Authorities launched a sweeping manhunt for the fugitive after he allegedly shot an Irvine couple on Feb. 3.
There had been considerable debate about who — if anyone — would get the reward.
The language of the reward, which was fronted by numerous agencies, initially specified that it was for Dorner's "capture and conviction."