This is an archived article and the information in the article may be outdated. Please look at the time stamp on the story to see when it was last updated.
The small Orange County suburb of Los Alamitos has picked a big fight with California by passing a resolution saying it wants nothing to do with "sanctuary state" laws aimed at protecting people here illegally from President Trump's promised immigration crackdown.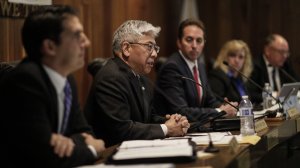 Now comes the hard part: Getting legal clearance to opt out.
While legal experts said they are doubtful Los Alamitos can prevail, the city's action has been viewed by some as a shot across the bow in a liberal state that has clashed with Trump on immigration and a variety of other issues. And there are questions about whether other red cities will follow suit.
A crowd of more than 100 people descended on a raucous meeting Monday night when the City Council voted to exempt the city from a California law that limits cooperation between local agencies and federal immigration agents.
Read the full story on LATimes.com.