This is an archived article and the information in the article may be outdated. Please look at the time stamp on the story to see when it was last updated.
The 3-year-old boy stabbed to death Thursday afternoon in Fontana has been identified by police after the local community gathered for a vigil in his memory Friday night.
Loved ones held flowers and candles, standing before photographs of the child slain just a day earlier. Some could be seen tearfully embracing one another as they mourned the death of Nathan Luna.
The toddler was identified by Fontana police spokesman Jay Sayegh to KTLA on Saturday — following the arrest of a man accused of stabbing him and his mother inside their Fontana home.
Saul Franco, 20, was taken into custody after family members called police to the home on Thursday. The child's mother, who has not been identified by authorities, was listed in critical condition later that same evening.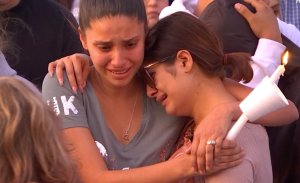 The relationship between the alleged killer and victims has not been released by police. Meanwhile, detectives are trying to piece together a motive, a particularly difficult challenge in this case, said Fontana Police Department Officer Rich Guerrero.
"We hope in any investigation we could determine a motive, but what possibly could cause a motive to stab a child?" Guerrero asked. "It's beyond me."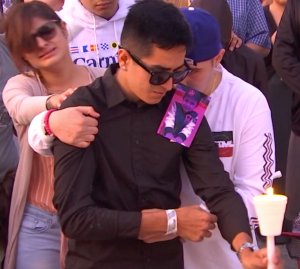 The tragedy has left a lasting impact on the community, which came together the following night to remember Luna.
"I don't know what would compel a person to hurt a kid like this," said Eddie Osorrio, one of the people in attendance. "But unfortunately, an event like that makes the community come together."
No other details have been released by police as the case remains under investigation.