This is an archived article and the information in the article may be outdated. Please look at the time stamp on the story to see when it was last updated.
A candlelight vigil was held Thursday night in Redlands for a 17-year-old boy who was allegedly shot and killed while stealing marijuana buds from the gunman's back yard.
Marcus Green, a student at Redlands East Valley High School, was remembered by dozens of friends and family members who erected a makeshift memorial in his honor and chanted: "Stop the violence."
The accused shooter, 34-year-old Erlindo Rodriguez Jr, was arrested after Green's body was found Wednesday night, the Redlands Police Department said in a news release. Rodriguez was being held without bail.
The discovery was made shortly after 10 p.m. in an alley in the 1000 block of Post Street (map), the news release said. Paramedics responded and pronounced the victim dead at the scene.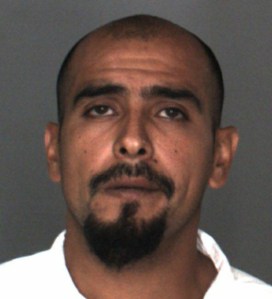 The suspect was taken into custody and transported to the Central Detention Center in San Bernardino.
Further details about the case were being withheld pending an investigation, police said.
At the vigil Thursday, Marisa Green speculated that her brother took the buds because "a lot of kids were doing it" and he "wanted to make friends."
"I guess the guy was sick of it, and he caught my brother, and he decided to take matters into his own hands and shoot him," she said.
Anyone with information about the incident is asked to call the Police Department at 909-798-7681.