This is an archived article and the information in the article may be outdated. Please look at the time stamp on the story to see when it was last updated.
An anti-drunken driving group held a vigil Wednesday evening for the victims of a wrong-way freeway crash that left six people dead, including four members of one family and the sister of an alleged DUI driver.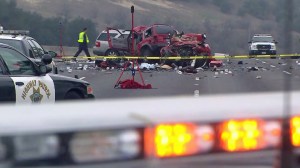 The Los Angeles and Ventura counties chapter of Mothers Against Drunk Driving organized the vigil at the Diamond Bar Community Center.
"It is important for our communities to honor the lives of those killed and injured in 100 percent preventable crashes," the organization stated in a news release. "We encourage all family, friends, neighbors and community members to come out and support this event."
The Sunday morning crash on the 60 Freeway in Diamond Bar killed four members of the same Huntington Park family as well as two young women in a Chevrolet Camaro that was driving the wrong way at more than 100 mph per hour, according to authorities.
Gregorio Mejia-Martinez, 47, and his wife, Leticia Ibarra, 42, died, as did their daughter Jessica Jasmine Mejia, 20, and Jessica's grandmother, Ester Delgado, whose age was not known.
Olivia Carolee Culbreath, 21, was driving the Camaro that collided head-on with a 1998 Ford Explorer driven by Mejia-Martinez, according to CHP.
The Explorer then hit another car, whose driver said he was lucky to survive.
Culbreath's 24-year-old sister, Maya Louise Culbreath, and her friend Kristin Melissa Young, 21, were killed.
The collision left a gruesome scene of twisted metal and debris scattered across the roadway. The horrific nature of the violent crash has generated national attention.
Culbreath was hospitalized for a broken femur and a ruptured bladder. She was arrested  on suspicion of felony driving under the influence of alcohol causing great bodily injury or death, and of felony manslaughter, according to the California Highway Patrol.
She had a previous DUI conviction when she was a teenager, DMV records showed. Restrictions on her license had been lifted the week before the collision, according to the DMV.
She was being held on $6 million bail, but had not been charged as of Wednesday.
In 2012, 802 people in California were killed in drunken driving crashes, MADD stated. Those deaths were among more than 10,000 nationwide, MADD said.