This is an archived article and the information in the article may be outdated. Please look at the time stamp on the story to see when it was last updated.
Firefighters on Tuesday were hoping to get more control of a brush fire that destroyed 24 structures in Orange County and forced a mass evacuation of residents in Anaheim Hills and Orange.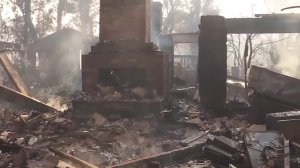 The Canyon 2 fire broke out around 9:20 a.m. Monday near the 91 Freeway and Gypsum Canyon Road, and quickly leaped the California 241 toll road. It raced up a ridge and hit tract homes at the top of a hill. Several caught fire and continued to burn even as firefighters sprayed the structures with water.
Orange County fire officials evacuated more than 5,000 homes in three cities as the fast-moving fire grew, spitting smoke into the air that was visible over Disneyland and caused officials to issue air quality warnings in parts of Los Angeles County.
Some residents found themselves racing out of their homes as the flames licked the edges of their neighborhood. Dio Compolongo, 22, said he operated "on total instinct" when he saw the blaze creeping close to his family's residence in the Anaheim Hills. He rushed to stir his two younger sisters, both home sick from school, as he frantically checked map apps to find an evacuation route.
Read the full story on LATimes.com.