This is an archived article and the information in the article may be outdated. Please look at the time stamp on the story to see when it was last updated.
A brush fire that destroyed several homes in the Anaheim Hills area Monday continued to grow overnight, prompting  officials to keep evacuation orders in place for thousands of Orange, Tustin and Anaheim residents for most of the day Tuesday.
But by the evening, about 15,000 residents were allowed to return to their homes.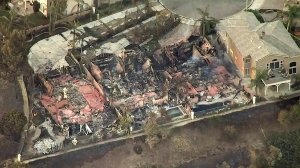 The fire, dubbed Canyon Fire 2, has scorched about 8,000 acres and was 40 percent contained, authorities said Tuesday night. About 13 homes were destroyed and another 21 were damaged. Two out buildings were also destroyed, fire authorities said.
"The fire was fairly inactive last night on the western edge, but still active on the eastern edge ... That's the main area of concern right now," Anaheim Police Department spokesman Daron Wyatt said.
Orange County Fire Authority Capt. Larry Kurtz said firefighters were making "fantastic progress."
"We're not taking our foot off the gas pedal until this thing gets to 100 percent," the captain said later.
Aerial video from Sky5 showed the fire burning east of the 241 Toll Road and south of 91 Freeway Tuesday morning.
Though forward progress of the fire was halted, fire officials were anticipating that changing winds might cause the blaze to also switch directions.
"We are ready to receive that fire when it changes direction and burn up hill," Kurtz said. Later, authorities indicated that weather conditions were favorable Tuesday.
About 1,100 firefighters from several agencies were involved in the firefight. Six fixed-wing aircraft and 14 helicopters were also assisting in the operation Tuesday, authorities said.
The fire, which spread quickly due to Monday's gusty winds, has damaged at least 24 structures since it broke out near the 91 Freeway and 241 toll road Monday morning, Anaheim Fire and Rescue posted on Facebook overnight.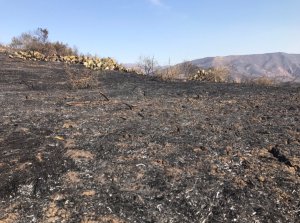 Weir Canyon Wilderness Park, where wildflowers bloomed in the spring, was damaged by the fire, photos showed.
Nearly 4,000 residents have been impacted by the blaze and 5,000 structures remained threatened Tuesday morning.
Most evacuation orders were lifted for areas affected by the blaze at 7 p.m. Tuesday with some exceptions:
Homes along Windes Drive, north of Santiago Canyon Road in Orange, along with Santa Ana Canyon Road between Woodcrest Road and Gypsum Canyon Road in Anaheim, were expected to remain closed after 7 p.m. Tuesday.
Areas that are evacuated can be found in a searchable map released by Anaheim Fire and Rescue.
An overnight shelter at El Modena High School in Orange will remain open until 7 a.m. Wednesday and East Anaheim Gym shelter will be open until 9 p.m. Tuesday, officials said.
Residents with horses were being asked to bring them to Los Alamitos race track.
The 91 Freeway, which reopened Monday afternoon, was expected to remain open for the morning commute.
Anaheim residents with questions can call 714-765-4333, while those in Orange are urged to dial 714-744-7555.
El Modena High School, along with Santiago Charter and El Rancho Charter middle schools will reopen Wednesday.
Anaheim Hills, Canyon Rim, Chapman Hills, Linda Vista, Panorama and Running Springs elementary schools will remain closed Wednesday.
All other schools in the Orange Unified School District will remain open Wednesday, officials said.
The cause of the fire, which sparked only about 2 miles away from where the initial Canyon Fire started on Sept. 25, is still under investigation.
Thousands of firefighters are also in Northern California battling several more wildfires, which have killed at least 15 people and burned more than 2,000 homes and businesses, authorities said.
Governor Jerry Brown has declared a state of emergency for the northern and southern California counties impacted by the fires.
A smoldering morning at Peters Canyon Regional Park after a day of burning #CanyonFire2 in Southern California @KTLA @KTLAMorningNews pic.twitter.com/pl8GSzs5td

— Chris Gierowski (@tepall14) October 10, 2017