This is an archived article and the information in the article may be outdated. Please look at the time stamp on the story to see when it was last updated.
A rapidly spreading brush fire that began in the Anaheim Hills area has burned multiple homes and threatened others, prompting road closures and evacuation orders that impacted 5,000 residences in Anaheim, Orange and Tustin on Monday.
At least 6,000 acres have burned in the so-called Canyon Fire 2, which remained 0 percent contained by mid-afternoon.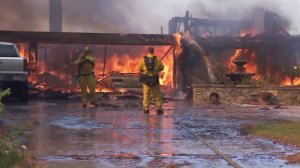 A fire burned in the same general area on Sept. 25, when 2,662 scorched at the edge of Anaheim and Corona.
Anaheim fire officials have released a searchable map for evacuation areas.
Evacuation orders:
-North of Peter's Canyon in Tustin
-East of South Weir Canyon Road in Anaheim
-Entire area east of Serrano Avenue in Anaheim
-Eastbound Nohl Ranch at Serrano
-South of the 91 Freeway, west of the 241, north of Nohl Canyon Road and east of Serrano
-Nohl Ranch Road and Canyon Rim
-North of Santiago Canyon, south of Maybury Ranch, south of Santiago Oaks, including Hunter Avenue, Windes Drive and Lolita Street
-Everyone north of Santiago Canyon Road
-Maybury and north of Serrano
-East to Santiago Canyon Road, North to Santiago Canyon Road and South to Chapman
-Tustin ranch area north of Jamboree Road and Tustin Ranch
-All homes north of Pioneer Road and West of Patriot
Additionally, the following areas in Orange are under an evacuation order:
Area 3
– Sully Miller (W)
– Santiago Canyon (S)
– Santiago Creek (N)
– Villa Park Dam (E)
Area 2
– Cannon (W)
– Serrano (W)
– Santiago Creek (S)
– Hidden Oaks (E)
Area 6
– Orange Park Acres
– Kenny Mead (W)
– Santiago Cyn (N, E, S)
– Residents in the area south of Walnut Canyon Reservoir — in Anaheim — should also be ready to evacuate, the Fire Department tweeted around 1:30 p.m.
Shelters for evacuated residents: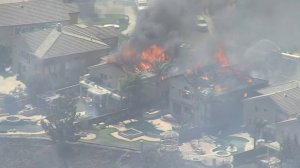 -East Anaheim Community Center at 8201 E. Santa Ana Canyon Rd.;
-Downtown Anaheim Community Center at 250 E. Center St.;
-Downtown Anaheim Youth Center at 225 S. Philadelphia-El Modena High School at 3920 E. Spring St.
-El Modena High School at 3920 E. Spring St.
– Katella High School at 2200 E. Wagner Ave.
Shelters for evacuated animals: 
-Country Care Pet Resort in Yorba Linda is taking in pets for residents that need to evacuate, 4691 Valley View Ave.
-Orange County Fair Grounds, 88 Fair Dr. in Costa Mesa, is accepting large animals. However the venue was approaching capacity later into the night and asks that pet owners contact 714-708-1588 before bringing more animals to the fair grounds.
-Los Alamitos Racetrack, located at 4961 Katella Avenue in Cypress, is accepting large animals.
-Animals owners with disabilities are urged to contact O.C. Animal Care at 714-935-6848
Freeway and road closures:
-Northbound 241 at Santiago Canyon — vehicles diverted at Santiago.
-Eastbound Nohl Ranch at Serrano
-Eastbound Santa Ana Canyon at Festival
-Eastbound Santa Ana Canyon at Woodcreek
-Southbound Weir at Monte Vista
-Southbound Serrano from Weir Canyon
-Eastbound Canyon Rim at Serrano
-Chapman Avenue at Jamboree
-Eastbound Chapman at Crawford Canyon and Newport
School closures:
-All Tustin Unified schools closed Tuesday, Oct. 10
-The following Orange Unified schools: Anaheim Hills Elementary, Running Springs Elementary, Canyon Rim Elementary, Chapman Hills Elementary, Linda Vista Elementary, Panorama Elementary, Santiago Charter School, El Rancho Charter School, El Modena High School (closed to students and staff while used as shelter)
The O.C. Sheriff and Orange Police Department Incident Command Center and Red Cross Evacuation Center is at at El Modena High.
Chapman University in Orange will be closed until further notice because of the fire. Those who remained on campus were asked to leave immediately.
Fire authorities gave phone numbers that residents in Tustin, Orange and Anaheim can call:
Updated phone number for @CityOfOrangeCA (714) 744-7550. pic.twitter.com/oyIkqFH4uQ

— Anaheim Fire & Rescue (@AnaheimFire) October 10, 2017
Mandatory evacuations for #CanyonFire2 in effect for homes east of Serrano, north of Nohl Ranch, south of 91 fwy. pic.twitter.com/xJBtTE8L3U

— Anaheim Fire & Rescue (@AnaheimFire) October 9, 2017
https://twitter.com/Caltrans12/status/917500105187516416
[protected-iframe id="c9010c5823ef3f6a144ff3b71ca93adf-41641936-49434793″ info="http://new.livestream.com/accounts/9262780/events/3189705/player?width=560&height=315&autoPlay=true&mute=false" width="560″ height="315″ frameborder="0″ scrolling="no" video=1]