This is an archived article and the information in the article may be outdated. Please look at the time stamp on the story to see when it was last updated.
Wind-driven flames spread uphill from State Route 241, and the first home caught fire shortly before noon Monday.
Then additional homes quickly began to burn in a neighborhood of million-dollar houses that line cul-de-sacs in northeast Anaheim Hills. The area was blanketed in smoke.
Gusts of up to 45 mph fanned the blaze, which was  dubbed Canyon Fire 2 for its proximity to a fire by the same name that burned 2,662 acres nearby just two weeks earlier. In the original Canyon Fire, some 1,500 residents were affected by evacuation orders and six structures were damaged.
The second fire by the same name started in nearly the same location – off the 91 Freeway near Coal Canyon – but burned much more rapidly and west toward Anaheim. The earlier fire burned east toward Corona.
On Monday, multiple homes were destroyed, aerial video from Sky5 showed. Thousands of residents were under an evacuation order.
Related: Canyon Fire 2 List of Evacuations, Road Closures
Authorities said they could confirm at least six homes had burned by late afternoon, but they expected that number to rise. Some 5,000 homes were threatened by early evening.
Fire officials later said 24 structures were destroyed, though they didn't say how many were homes or other buildings.
Confirmed: evacuees will not be allowed back to the area tonight. #CanyonFire2

— Anaheim Fire & Rescue (@AnaheimFire) October 10, 2017
Asked about homes burning, apparently without any nearby presence from firefighters, Sgt. Daron Wyatt, a spokesman for Anaheim Fire & Rescue, initially said fire personnel had been trying to reach the houses but were struggling with low visibility, wind gusts of 45 mph and an "extreme" rate of spread.
"Many of the homes that have burnt, it's because of embers that have flown well in advance of fire," Wyatt said. "We're trying to battle the head of the fire, but because of these winds … sometimes we're having these homes burnt."
Fire officials' first focus is the protection of lives and then, secondarily, of property, Wyatt said.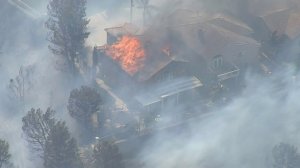 By 1:30 p.m., at least four homes appeared to have burned on the same street in the area of Canyon Heights Drive, video from the scene showed. The homes appeared to be complete losses.
About 2 1/2 miles to the southwest, several other homes burned in another neighborhood, the Estates of Hidden Canyon. At least one home burned in that area on Via El Estribo.
And at least one other home – a very large one – could be seen burning in the area northeast of Walnut Canyon Reservoir.
The blaze had consumed about 3,000 acres within some five hours, and that number rose to 4,500 to 5,000 by 6 p.m.
Glass could be heard shattering as flames tore through homes, and propane tanks could be heard exploding.
Cal Fire's Riverside division chief, Steven Beach, said firefighters were using a tactic called "fire-front following," moving resources to areas of active fires.
"We have a fire that's burning in an urban interface area. … We have to make smart use of the fire resources we have because of the precarious fire situation the state of California has today," Beach said, in reference to massive, destructive wildfires in Northern California.