This is an archived article and the information in the article may be outdated. Please look at the time stamp on the story to see when it was last updated.
When the Canyon wildfires burned over 18 miles and triggered evacuations of thousands in recent weeks, some Orange County residents said local fire and rescue agencies should have responded quicker.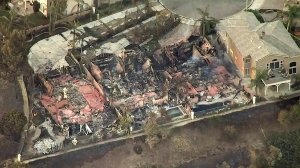 Anaheim fire officials said Monday they are changing policy to ensure just that, while revealing that remnants of Canyon Fire 1 likely caused the second Canyon fire. They also defended a wildfire response that was complicated by unseen embers burning underground and especially strong Santa Ana winds.
Officials held a news conference explaining the sources of the two devastating Canyon fires that damaged over 80 and destroyed at least 25 structures, including over a dozen homes, from late September through mid-October — first, a road flare that caught fire, and later, a stray ember likely from that earlier blaze that landed in fresh, highly flammable vegetation.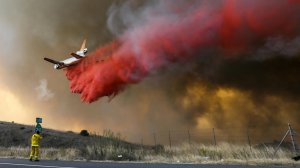 An investigation was launched into looking at causes of the fires, at the request of the Orange County Board of Supervisors. An editorial by the Orange County Register also called for an investigation, saying questions remained about everything from the timing of the firefighting response to the helicopters used to put out the blaze.
Canyon Fire 1 started when a road flare from a Caltrans vehicle along the 91 Freeway caught fire with a shrub on the roadside, officials said. Authorities received a call about that fire on the afternoon of Sept. 25.
Caltrans has since said that it plans to review its policies for such flares, which are used to alert other drivers of the street-sweeping vehicle.
Roughly two weeks later, a smoldering clump of oak likely from Canyon Fire 1 was swept up into the air by Santa Ana winds and flew 60 feet, landing in fresh vegetation and igniting a new blaze — the larger Canyon Fire 2 that destroyed at least 15 homes.
"When one of those embers got into that fresh vegetation, there was nothing we could do to stop it," said Sgt. Daron Wyatt, public information officer for Anaheim Fire & Rescue.
Embers were from burned area from #CanyonFire but traveled due to wind into unburned areas to start #CanyonFire2

— Anaheim Fire & Rescue (@AnaheimFire) November 6, 2017
Still, Anaheim fire officials said they plan to act faster in the future, as Chief Randy Bruegman described the evacuations so many O.C. residents underwent as "probably one of the most traumatic things that an individual or family can go through."
Prior to their experience with Canyon Fire 2 — a blaze that triggered road and school closures across at least three cities — Anaheim Fire & Rescue would first transfer calls to Orange County Fire Authority. That agency's the "central point for resources," Wyatt said.
But since then, Anaheim Fire & Rescue has started launching their own efforts while "simultaneously" contacting the fire authority.
"Now, what we're doing is we're launching our resources immediately, as we're simultaneously sending the call to them to launch the broader response," Wyatt said.
Anaheim has changed policy to immediately respond to any fire reported in our jurisdiction. Will not wait for other agencies. #CanyonFire2

— Anaheim Fire & Rescue (@AnaheimFire) November 6, 2017
"It's that something we've done since Canyon 2 because we identified an area where we could improve," Wyatt said.
Before firefighters started tackling the massive Canyon Fire 2 on Oct. 9., the California Highway Patrol responded to a call about some smoke and fire in an area that was just 150 feet from where Canyon Fire 2 started, fire officials said.
When a CHP officer investigated that call, he found no fire and just soot and dust blowing around, officials said. Since the caller didn't remain there, it was probably difficult for the officer to pin point the exact location, officials said.
Meanwhile, the stray ember that started Canyon Fire 2 was just 20 feet away from Canyon Fire 1, a blaze that officials had believed was already completely extinguished.
Canyon Fire 1 was considered 100 percent contained at that point — a fact that could call the firefighting response into question. But Bruegman defended the efforts by personnel on the ground.
"There had been embers that had probably been embedded at the base of the tree and went somewhat under the ground," he said, making them "not visible" until Santa Ana winds swept them up later.
"We can't sit on things that we believe are out," he said.
Officials also said they hope evacuation efforts will improve in the future, as some residents had to wait two to three hours in traffic to evacuate as other people swarmed the area to take photographs of the blaze.
Some factors, though, are just hard to control — like the winds that swept Canyon Fire 2 across nine miles in just a day.
"When that wind came up, that was probably one of the strongest winds we've had in many, many years," Bruegman said.
As Anaheim fire officials look at their own response, Bruegman said just about every other agency involved is doing the same given the scale of the Canyon wildfires.
"Every department is doing an after-action hotwash on this and going 'How do we do it better next time?'"